Literary Team wins Region 7AA Title
Friday, March 11, 2022 GC hosted the Region AA Literary event at Belmont Baptist here in Calhoun.  Here's a picture of the entire team being silly celebrating their 1st place team trophy.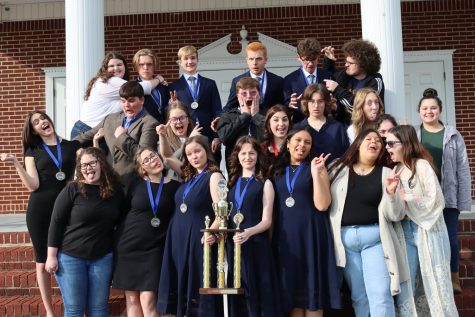 This is a hard-working and talented group of Warriors. You don't become Region Champs without great perseverance and drive. Literary is composed of 12 events. You receive points based on your placement in each event.
Rhetorical Essay – Keean Sexton (2nd place)
Argumentative Essay – Xander Briscoe (4th place)
Personal Essay – Lainey Richardson
Domestic Extemp – Lindsey Lowrance (REGION CHAMPION)
International Extemp – Catherine Hughes (REGION CHAMPION)
Humorous Oral Interp – Breanna Morris (REGION CHAMPION)
Dramatic Oral Interp – Aubry Dorsey (REGION CHAMPION)
Duo Oral Interp – Catherine Hughes & Tyler Waits (REGION CHAMPION)
Girls Solo – Jalynn Marshall (REGION CHAMPION)
Boys Solo – Bobby Hicks (REGION CHAMPION)
Girls Trio – Hailey Sloan, Itzel Lopez & Aubry Dorsey (REGION CHAMPION)
Boys Quartet – Seth Hare, Sam Holder, Addison Baker & Jude Clance (REGION CHAMPION)
GC walked away today with 69 points overall (I will have to check our records, but I believe that's our second highest overall score in school history.) As you can see from the above stats, we garnered 9 individual 1st place medals.  These individuals will go on to compete at the State level in a couple of weeks.
As you can see . . . good day!
This is a team effort. We have an extraordinary group of kids who are led by a phenomenal team of teachers.
Shannon Rainwater – Essay
Renee Hughes – Extemp
Richard Bristow – Oral Interp
Dr. Kim Watters – All singing events
We are also fortunate to have had some great support in both students and adults. Vicky Latimer from Ashworth ran the music contest. Alan Hughes helped in the score room. Both Mike Earnest & Susan Skaggs came out of retirement to help us.
Ava Perez, Aliyah Mills, Sadie Holmes, Madelyn Goble, Amy Lopez, Samantha Ruiz (and Nathaniel Wolfe helped Thursday) were busy helping where needed so we could run the event smoothly.
The 9 Literary qualifiers will go to state at Georgia Military College March 25 – 26.  Look for your opportunity to see these kids in action as they prepare to win the State AA Literary Team Trophy. (it's not as easy as it sounds)